Authentic Italian
Owned and Operated by the Corbia Brother's: founders of the famous celebrity favorite 'Mauros Cafe on Melrose inside FredSegal'
A DESTINATION in HOLLYWOOD
We are proud to be a fan-favorite of guests who attend shows at the Pantages Theatre in Hollywood, CA. We are also a pre-show destination for locals and tourist who watch movies at the Arclight Cinemas, The Montalbán Theatre, The Hollywood Palladium, and many other local venues.
your table is ready…
Join us with peace of mind. Reserve a table, share the occasion, and we'll take it from there!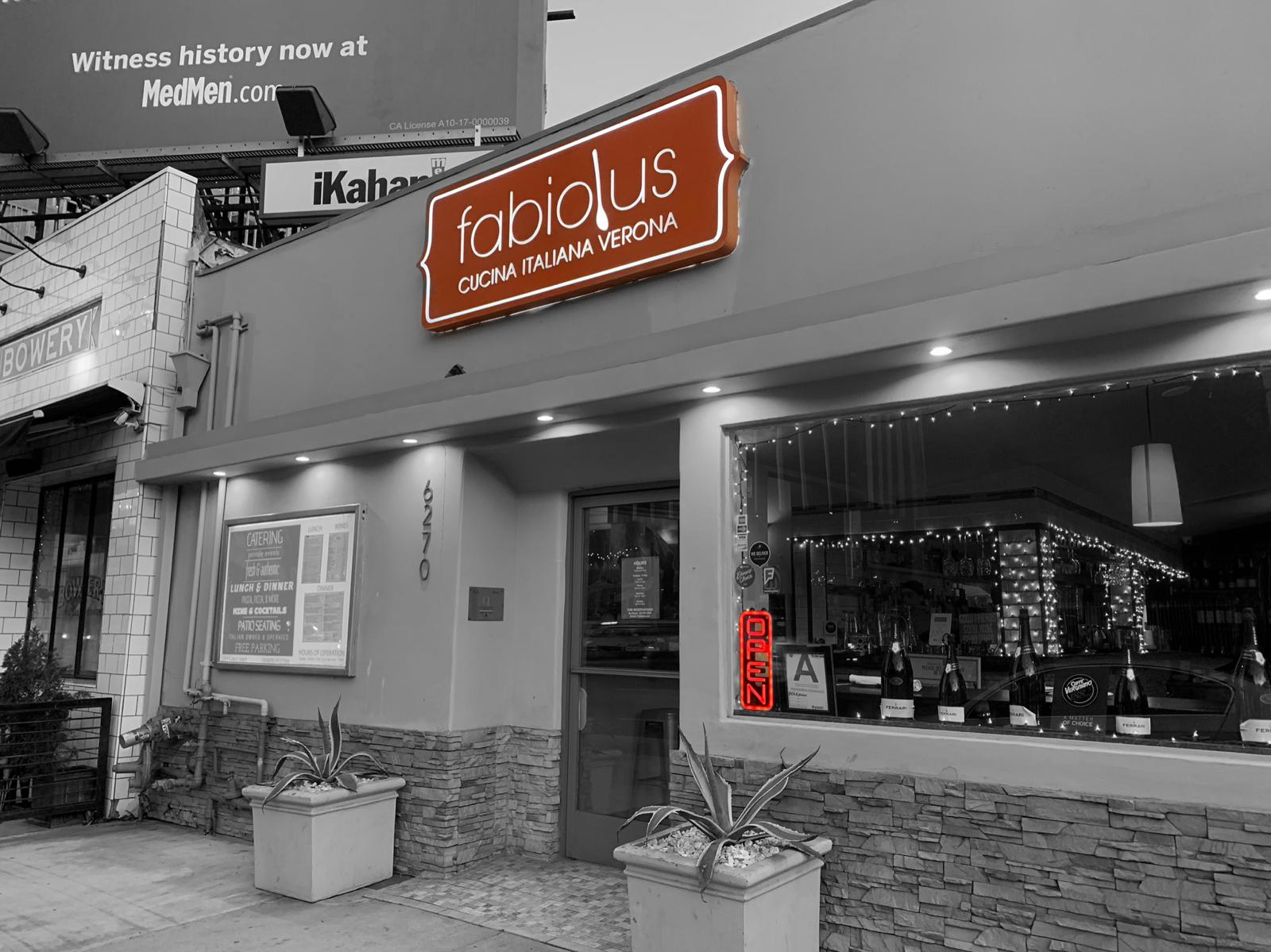 Our menu has been crafted to give you a variety of Italian dishes that will satisfy your craving for pasta from noodles varying from penne, fettuccine, fusilli, spaghetti as well has hand-man pasta like stuffed Ravioli.
Other specialty dishes that are considered popular among Italians are Risotto and Gnocchi. Risotto is a rice dish cooked in broth and has a rich creamy consistency.Gnocchi is small potato dumpling.

We love to experiment in the kitchen and bring to you new menu items when certain items are in season - we make the most of it. Ask for the "Chef Recommends" menu
Don't forget the Pizza. We make our dough fresh daily and cook it to order. When the dough blisters in oven - it's ready and served hot!
Whether you are looking to have a lunch meeting, celebrating a birthday, want to enjoy drinks with friends during Happy Hour, we'll be more than excited to serve you.
Large Party? We also cater for events and rent out our patio or dining room for all kinds of occasions.

We also happily deliver large orders to your destination of choice!
MAURO CORBIA
OWNER / OPERATOR
Mauro Corbia, is native to the isle of Sardinia, Italy where he comes from a culinary family that prepared simple, traditional dishes using fresh ingredients.
In 1992, Mauro co-founded Mauro's Cafe inside Fred Segal Melrose. Under Mauro's inspired direction, Mauro's Cafe became a world-renowned celebrity magnate. The simplicity of the menu and comfortable, fashionable atmosphere made it loved by loyal customers and celebrities alike.
SERGIO CORBIA
EXECUTIVE CHEF
As Co-Owner and Executive Chef of Mauro's Café, Sergio delighted a wide ranging group of loyal customers from all over the globe.
Chef Sergio has become successful at crafting warm, family-style environments that highlight the fresh, regional Italian dishes that originally inspired him to get into the culinary world. Chef Sergio and his devoted team create our daily specials at Fabiolus - which keeps our guests coming back for more.

HERMINIO HERNANDEZ
CHEF DE CUISINE
Erminio has been the Chef at Fabiolus Cucina for over 15 years. He's a native of Mexico and has been able to bring his experience and influence south of the border to improve the kitchen work-flow which has allowed us to continue to create quality dishes and handle a crowd.
He's also been instrumental in working with Chef Sergio Corbia in developing specials that bring variety and unique flavors that are not featured on the regular menus.